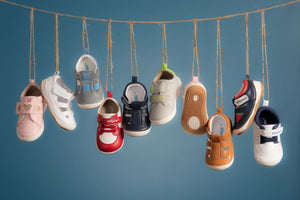 AWARD-WINNING FIRST WALKER AND TODDLER SHOES
Lovingly designed in Australia
Billycart make little shoes for big adventures.
Shop this month's best sellers
When it comes to first walkers, barefoot is best. But the next best thing is Billycart.
We're first walker shoe specialists, and we understand exactly what growing feet need.
That's why Billycart Kids shoes are more than just cute. They're great for precious, developing feet and carefully designed to mimic the experience of walking barefoot.
From the moment your little one takes their very first step, the right shoes will support their growth, posture and balance, give them confidence as they learn to navigate the world, and guide them on endless adventures.
About Our Shoes
Recommended by Australian podiatrists
High quality, ultra lightweight materials
Flexible rubber soles to reduce falls
Mimics the experience of walking barefoot
Unique, award-winning designs
Australian designed, owned & operated
Shop our first walker shoes
What can you do in your Billycart shoes?
Billycart Kids first walker, pre walker and toddler shoes are not just comfortable and flexible, they're #BushTested and #KidApproved. 
Built to withstand the rough and tumble, our shoes are designed to take little adventurers anywhere. 
Because you can't keep a Billycart Kid indoors. 
Born in the Queensland bush, loved by parents all over
Hi, I'm Mandy. I'm a mum, and like so many Australian parents I had a tough time finding the right shoes for my little one. 
I searched high and low for shoes that were practical, hard-wearing, affordable, and most importantly, podiatrist approved. 
When I couldn't find what I needed I created them myself, and Billycart Kids was born…
★★★★★

"Affordable, practical, and very easy to put on, these shoes are great for my toddler who has wide feet and also sensory issues when it comes to shoes and having things on her feet. We've successfully got her to wear the sandals and she is comfortable walking, running and playing in them as they are lightweight and flexible but also durable. We will be trying a few more shoe styles from Billycart!"

Kate S

QLD
★★★★★

"As an Australian based Podiatrist, I am always on the look out for children shoes that mimic being barefoot, to allow the foot to develop naturally. The space in the toes is fantastic, and I like that they are really light and flexible. They were really easy to put on too which is always handy with a wriggly toddler.
Personally I remove the insole to increase the ground feel, but I like there's the option to either keep in the insole in or remove it."

Chloe-May Bennett

Functional Soles Podiatry
★★★★★

"The best toddler shoes we've tried. Love these shoes for my 18 month old. So easy to put on with wide openings, and he never pulls these off - they look so comfortable and give just the right amount of support as he learns to walk. My son's paediatric physio also gave them a big thumbs up for their bendy sole. Will definitely get more styles as his feet grow"

Cat N

VIC
★★★★★

"Love these shoes as both a mum and a physiotherapist"

Steph C.

QLD
★★★★★

My 14 month old loves these shoes and they are super cute. She has chubbier feet and some of the other brands we have tried tend not to hold her weight well. These shoes are amazing as she toddles along and gives her great support. Our chiro even loved them and was off to buy a pair for her granddaughter!

Heidi W.

NSW
★★★★★

Riley shoes

We love the Riley shoes. My son had taken a few steps here and there before I bought these shoes. The day we received them, I put them straight on him and he walked the most steps he had ever taken! Within a few days he started walking independently. They look comfy and feel like good quality. He comes up to us through the day to put them on so he can walk around the house! We bought two pairs of Billycart Kids shoes and will definitely buy in the future. I was able to buy two pairs for under the price of one pair of other brands.

Carlie

WA