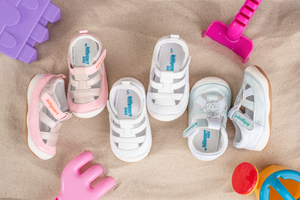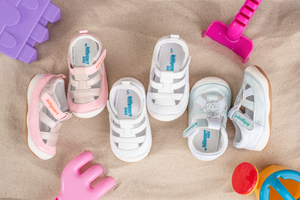 About Billycart Kids pre walker,
first walker and toddler shoes
What can you do in your Billycart shoes? 
✓ Explore the playground: With grippy, flexible, low-slip soles that promote balance and confidence
✓ Take off on messy adventures: With easy-wipe uppers and removable, machine-washable fabric insoles  
✓ Run, play and climb all day: With a lightweight, ergonomic design and protective closed toes
We make little shoes to take you to exciting places... 
It's so fun to choose your baby's first shoes 
As parents, we know how wonderful it is when your little one starts to pull themselves up, then balance, then walk. They're exploring the world on their own terms for the first time – what a milestone!
And we want cute little shoes to protect their feet and match their adorable outfits. Many of us go with what we know – we buy mini versions of our shoes, like thick-soled sandals with arch support, or tiny brand name sneakers with high-grip soles. If they work for us, they'll work for our little ones, right? 
What we often don't realise is that baby and toddler feet have unique needs as they grow and develop, and the wrong shoes can hamper their progress as they learn to walk and explore on their own. 
It's important to choose the right shoes for baby and toddler feet 
When you choose a tiny version of an adult shoe you'll often find:
✗ Thick, rigid, inflexible soles: So kids can't feel the ground beneath them
✗ A narrow fit: Squashing tiny toes together
✗ Buckles and laces: That little ones can't do up independently, and are a pain for parents to put on
✗ High-grip soles: Which sound like a good idea, but are not ideal for babies and toddlers, as they can force them to stop suddenly and fall
✗ Exposed toes: Which can be a trip hazard, and can lead to stubbing and injuries for little adventurers
✗ Heavy, clunky materials: That put strain on growing muscles and make learning to walk a drag
✗ Materials that can't easily be cleaned: Because babies and toddlers love to get messy!
Learning to walk should be exciting! But incorrect footwear can make it harder than it needs to be. 
Billycart Kids shoes are podiatrist approved, and designed specifically for baby and toddler feet
You may have heard that 'barefoot is best' when learning to walk. But what does that mean, exactly? 
Going barefoot gives kids the best start to walking. Babies and toddlers have naturally wide feet, so barefoot walking allows their toes to spread naturally as they learn to balance. They can feel the curves and contours of the ground under their feet, leading to increased confidence and less falls. 
Billycart Kids shoes have been uniquely designed to mimic barefoot walking as closely as possible. And Australian podiatrists agree – all of our shoes come with the podiatrist tick of approval.
Billycart Kids shoes feature: 
✓ Flexible, soft rubber soles that can bend all the way back on themselves: For better balance and coordination, where they can feel the ground beneath them
✓ Comfortable, wide, closed toes: To fit the natural shape of little feet and protect toes from stubbing
✓ Ergonomic foot pads: For comfort and support
✓ Lightweight materials: To support easy movement
✓ Anti-slip sole tread: For balance and safety
✓ Quality materials: For easy cleaning and long lasting wear
✓ Strong velcro and elastic straps: That are easy to put on
✓ Reinforced heel: For support and long-lasting wear
✓ Breathable mesh lining: For comfort, so they can be worn with or without socks
✓ Removable inner-soles: For easy cleaning
✓ Stylish designs: Adorable shoes to match any outfit or occasion
✓ Affordable price: Because developmentally-appropriate and podiatrist-approved shoes shouldn't cost a fortune
Billycart Kids customers often tell us how much their child's walking improved after they started wearing our shoes, with improved balance, fewer falls and increased confidence (and that makes us very proud!). 
And we're an Australian owned and operated company. Billycart Kids shoes are designed by an Australian mum, for Australian parents. 

Busting the myths around baby and toddler shoes 
Here we answer some of the most frequently asked questions about choosing the right shoes for your baby or toddler. 
'I've bought name brand shoes for my toddler before, and they're really expensive! That means they're good, right?' 
Unfortunately, not always. Neither the price of the shoe nor the brand name are indicators of quality when it comes to little feet. They might be well constructed, but that doesn't mean they're specifically designed for babies and toddlers. 
Many shoe brands are excellent at designing adult shoes, but unlike Billycart Kids they're not first walker specialists. 
When assessing a shoe, take a look at the Billycart Kids shoe features above and undertake your own quality check. Can the soles be bent all the way back on themselves? Do they have a nice, wide fit and a closed toe? Are they lightweight and easy to run and jump in? 
'Why don't your shoes have arch support? Don't babies and toddlers need arch support?' 
Not in most cases, no. Arch support directly conflicts with the 'barefoot is best' principle. Babies and toddlers learn to walk best when they wear soft soles and can feel the ground beneath their feet. 
Unless arch support is prescribed by a professional for corrective purposes, shoes with flat, soft, flexible rubber soles are best. 
'My kids spend lots of time outside, so they need thick, sturdy shoes. Won't soft, lightweight shoes wear out too quickly?' 
Thick and sturdy also means inflexible and heavy, which can make it much harder for babies and toddlers to learn to balance and walk. 
Billycart Kids shoes are lightweight (and much easier for little ones to walk in, with less strain on their muscles), but don't let that fool you! 
We've specifically designed our shoes for outdoor adventures, and with their rubber soles, reinforced heels, quality materials and protective toes they're long lasting and perfect for endless fun, both inside and out.